ADVANCED RESIDENTIAL COUTURE SEWING COURSE SUMMER 2018
In 2016 I ran my first UK sewing course in collaboration with Jayne Edwards at her beautiful country home, Gaddens Manor in The New Forest, England; they have proved to be a huge success! For the past 12 years I have been teaching Residential Couture Sewing Courses in Palm Springs, California with Claire Shaeffer and in North Bay, Ontario with Kathryn Brenne, so now it is wonderful to be able to do this so successfully so much closer to home!
In 2018 Jayne and I plan to offer four courses. Come and enjoy a sewing holiday with like-minded sewers. You will have the unique opportunity to study with me, a Couturier with over 35 years experience, in a class of no more than 8 students, in beautiful and relaxing surroundings. The 5 day workshops will begin with a traditional English afternoon tea at 4.00 pm on the Sunday followed by a light supper that evening. You will have the opportunity to meet me, Jayne and all the other students. Classes will then run from 9am to 5:00pm Monday to Friday. Students for the 3 day Bias Top workshop can arrive any time Thursday evening. The course will start Friday at 9.00am and finish on Sunday at 5.00pm.
June 3rd-8th 2018 The Classic Fitted English Tailored Jacket

SOLD OUT
In the summer of 2017 I ran a very successful Body Double Course, which ended with draping a Classic English Tailored Jacket. I draped this classic jacket myself, a four button, collar and revers pattern, which has now been graded into five sizes. However, those students who made their toiles last year will have the opportunity on this course of working from their own pattern, should they wish, transforming them into beautiful original tweed jackets. I have once again collaborated with Laurent Garigue in London to supply a beautiful Donegal tweed in five colours to make the this jacket. The course will cover trace tacking a pattern, backing with hair canvas, pad stitching a collar and revers, putting on a collar and setting in sleeves by hand. I also hope to show how to put in a pure silk lining by hand and how to tackle hand made buttonholes!
June 10th-15th 2018 The Couture Bias Cut wool Crepe Dress

SOLD OUT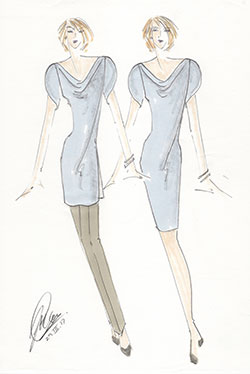 I have designed and draped this dress as an introduction to working on the cross grain. Bias cutting gives a unique fit, which is impossible to achieve in any other way. The dress will be trace tacked and backed with pure silk georgette and then lined in pure silk satin. I have cut the short sleeve to give the dress a modern edge and to introduce satin binding and backing with organza. However, I have also cut a classic long straight sleeve to work with this pattern for those who prefer a more traditional look. This dress was conceived as a perfect Little Black Dress but the wool crepe from Laurent Garigue is available in 20 wonderful colours!
August 9th-12th 2018 The Couture Bias Silk Top.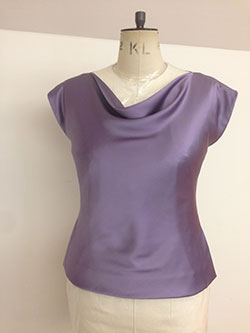 This weekend course is a first and is in response to students who wanted a shorter course but still get the full Couture treatment! Arriving anytime on Thursday evening the course will start at 9.00 on Friday morning and run over the weekend and finish on Sunday at 5.00pm. The course is an introduction to working in silk and on the bias. The top is made out of pure silk satin and backed on pure silk georgette. The top is trace tacked, backed and stab stiched and the turnings hand over sewn. The side slits and cap sleeves are supported by bias cut bands of silk organza. The satin for this top is available in 75 colours!!
October 7th-12th 2018 The Perfect Body Double and Draping a Tailored Jacket.

SOLD OUT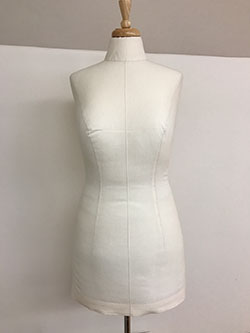 Over the many years I have been making Couture clothes for private clients, I have developed a method of padding a stand to create the perfect replica of the client's body from which to work. On this course we will work from a display mannequin, and learn how to pad and cover it, to replicate your own body exactly! I will show you how to take accurate body measurements, using my measurement chart and then pad the stand to build up an exact body double. Finally, a calico cover is created to give your stand that professional finish. Having made your body double, I will then show you how to drape a tailored jacket on your bespoke stand, creating your unique couture pattern. All the techniques you will need to make this padded stand will be demonstrated and all the processes are described and photographed in the book that is provided with the course. You go home with a perfect replica of you and a unique jacket pattern.
The Gaddens Sewing School is a newly built, fully equipped studio space where all sewing tools are provided in individual sewing kits. We will create the atmosphere of a Couture Workroom with large covered tables. Students will learn hand-sewing skills as they sit together in the workroom and sew.
SUPPLIES
All supplies required to make the project are included in the cost of the workshop:
Classic Tailored Jacket Project
Pure wool tweed from Laurent Garigue
Hair canvas in two weights and collar canvas
Pure silk satin lining
Calico Couture pattern in 5 sizes
Sewing thread
Basting cotton
Needles
Project booklet with complete instructions and process photos
Couture Bias Cut wool Crepe Dress
Pure wool crepe in 20 colours from Laurent Garigue
Pure silk georgette and satin to tone
Calico Couture pattern in 5 sizes
Sewing thread
Basting cotton
Needles
Project booklet with complete instructions and process photos
Couture Bias silk top course
Pure silk satin in 75 colours
Pure silk georgette backing
Calico Couture pattern in 5 sizes
Sewing thread
Basting cotton
Needles
Project booklet with complete instructions and process photos
Body Double Course
Mannequin display stand
Polyester wadding
Calico to cover stand and make toile
Sewing thread
Basting cotton
Needles
Project booklet with complete instructions and process photos
FULL BOARD
We can offer six single rooms and one shared room with en-suite, Full board. Breakfast, morning and afternoon breaks, as well as a hot lunch and light supper each day. On the five day workshops we will start with a welcome tea and early evening supper on Sunday prior to the workshop and there will be a farewell dinner on the Thursday evening at a top local restaurant. The three-day workshop will run over a long weekend with students arriving any time on Thursday evening, the course starting on Friday morning at 9.00am - Sunday at 5.00pm, with a celebration dinner, at Gaddens on Saturday night.
We will try our best to work with any known food allergies. However, if you are on a very restricted diet, you may wish to supply your own food.
FEES
| | |
| --- | --- |
| THE CLASSIC FITTED ENGLISH TAILORED JACKET COURSE | £1,750.00 |
| THE COUTURE BIAS CUT WOOL CREPE DRESS PROJECT | £1,825.00 |
| THE COUTURE BIAS TOP COURSE | £975.00 |
| THE PERFECT BODY DOUBLE COURSE | £1,425.00 |
All courses will include:
Full board, Breakfast, tea breaks, lunch and light supper
Accommodation in a single room or one shared room with en-suite.
All tuition and all supplies for the course
LOCATION
Gaddens Manor Sewing School is located in the New Forest National Park, Hampshire, England. It is just over an hour from London Heathrow Airport and 20 minutes from Bournemouth and Southampton Airports. There is ample car parking at Gaddens Manor.
A £600.00 DEPOSIT CONFIRMS YOUR PLACE ON EACH COURSE, PLEASE CLICK HERE TO VISIT THE GADDENS MANOR WEBSITE TO REGISTER AND RESERVE YOUR PLACE ON THE COURSE. THANK YOU.